MOTHER

Beatrice Pons as Mother.

Name:

N/A.

Also Known As:

Mother.

Appeared In:

Status:

Deceased:

Cause of Death:

Suffocated with a pair of large, inflatable breasts by Abby.

Family:

Other Relationships:

None.

Portrayed By:
Mother
is the lead antagonist in
Mother's Day (1980)
along with her two sons,
Ike
and
Addley
.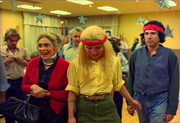 We meet Mother as she is attending a support group entitled Ernie's Growth Opportunity (EGO). She appears to be kind, friendly old woman and even offers to give a young couple from her support group a ride to the bus stop.
Supposedly heading in the direction of the bus stop, Mother decides to cut through the woods when her car suddenly "breaks down". She pops the hood up and goes out to try and see if she could fix the problem while the young couple remain in the car; the young woman is sitting in the front passenger's seat while her rather thuggish boyfriend is alone in the back seat. Throughout the first several minutes, he appears to have a rather menacing approach to him while his girlfriend is bubbly, hippyish kind of character. An odd mix for sure. As they are waiting inside of Mother's car, the boyfriend suddenly begins to grow impatient and starts encouraging his girlfriend to do something, but she hesitates for a moment. It starts off seeming as if the boyfriend wants to do something harmful Mother, however, it turns out that all he wanted for his girlfriend to do was to turn on the radio. After his girlfriend finally gives in, turning the radio on, he kicks back, relaxing.
Suddenly, a man in a mask approaches the car with a machete. Before the young man could even acknowledge this man's existance, the man chops his head off with a machete. We later discover that the masked man's name is Addley and that he is one of Mother's sons. After Addley kills the young man in the backseat, his older brother, Ike, pulls the young woman out of the car, throwing her up onto the roof. The two brothers take turns beating this young woman senselessly up until their mother instructs them to stop. Once the two men back off, the young woman crawls over toward Mother, begging for her to help her. Mother then pulls out a rope, wrapping it around the girl's neck, strangling her to death. She then looks up at her two sons, smiling and informing them of how proud she was of them.
For more information on the character of "Mother" in the 2011 remake, see Natalie Koffin.